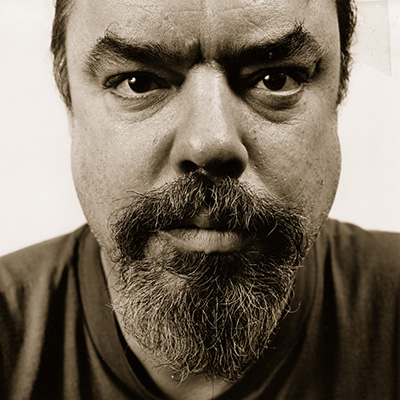 "ROOT BOY SLIM"

Writing a biography of an artist is usually a straightforward process. You list the date of birth, throw in some astrological crap, talk about all the gold and platinum records the artist has received, maybe even toss in a few quotes of a philosophical nature to show what a deep thinker the artist is. Unfortunately, that approach just won't work with Root Boy Slim.
 To begin with, there are many who say that Root Boy was not even born of woman, that his was a spontaneous birth of the union of madness and chaos. His father was a golf course architect, his family lived in the nation's capitol, and a dizzying progression of private schools ultimately led Root Boy (christened Foster Mackenzie III) to Yale.
 While attending this ivy-covered bastion of the Establishment, Root Boy hooked up with Bob Greenlee, captain of the Yale football team and a fraternity brother. (Bob, incidentally, was drafted by the Miami Dolphins, certainly a unique accomplishment among bass players, many of whom look like they could be blown over by a spring breeze.) Root Boy and Greenlee formed a band, Prince La La, Percy Uptight and the Midnight Creepers. Style-wise, the Creepers were a "seminal" part of the post-British invasion New England music scene, where there greatest achievement was in never playing the same venue twice.
 Time passes–ten years in fact–a period which sees Root Boy garner the wide range of experiences which he will later sing about. He attends architecture school, studies city planning, he bums around, heís arrested in Jamaica, and again in Jacksonville. Somehow, because Fate always works in mysterious ways, he and Greenlee (now known as Rattlesnake Rattles) are reunited and begin to work on musical projects again. They are joined by hot young swamp rock guitarist Ernie "Sex Ray" Lancaster who adds tasty musical hooks to the rather bizarre, scatological songs Root Boy spews out. Quick as a Hollywood movie, the shape and design of The Sex Change Band was hammered out. A hulking, sweating (I can sweat more than James Brownî), paunchy giant of a man, Root Boy the rock star has total presence and dominance over the stage, the audiences, and his music. This charisma, combined with the tightness of his band, quickly turns Root Boy into the hottest performer in the Washington D.C. area, a headliner who regularly garners many column inches for his apocalyptic performances.
 These rave notices, plus a demo tape produced by DC impresarios Joe Lee and Dick Bangham caught the attention of Steely Dan's Donald Fagen and producer Gary Katz, who in turn brought the act to Warner Brothers Records. Root Boy completed his debut album, with Katz; an album that launched one of the most curious, hilarious, original, biting and outlandish careers in the annals of rock.
 For fifteen years until his death in 1993, Slim toured and performed with a steady stream of top notch musicians while continuing to write and record 6 albums with Greenlee and Lancaster. His disturbing public and private personas became the stuff of urban legend in the process.